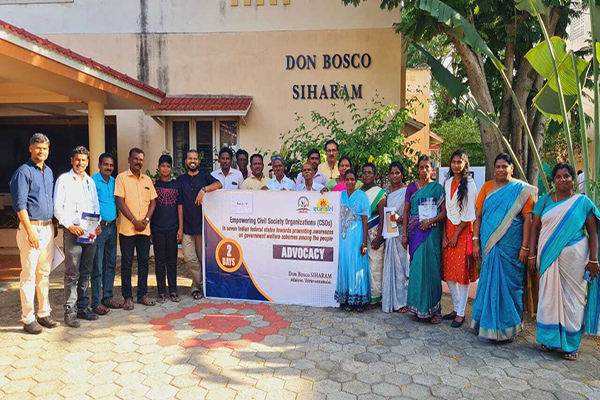 Education is the route out of poverty for many children. It gives them a chance to gain the knowledge and skills needed to improve their lives. 
For many families the long-term benefits of sending their children to school are outweighed by the immediate need to send them to work or keep them at home to help with chores.
Children miss out on school because their families need them to earn money. But by sacrificing their education, they become trapped in a cycle of poverty.
The society we live influence us in the way we act and communicate. It is the other way too. Each of us can greatly influence the growth and development of our society with our social connections, personal relationships, and physical environments. Our culture has a major role to play in creating society. It shapes the way we work and communicate, and it plays a major role in the way we view ourselves and others.
We strongly advocate moving ahead from the prejudiced norms and notions of the society where Men, women, and Transgender too participate in the decision-making process at the workplace and at home.
Water Sanitation & Hygiene
Ensure access to safe water sources and sanitation for all. Access to water, sanitation and hygiene is a human right, yet billions are still faced with daily challenges accessing even the most basic of services. Around 1.8 billion people globally use a source of drinking water that is fecally contaminated. Some 2.4 billion people lack access to basic sanitation services, such as toilets or latrines. Water scarcity affects more than 40 per cent of the global population and is projected to rise.
In order to facilitate to vulnerable individuals and communities in need, alternatives of means of living, development of personal capabilities and access to opportunities.
By ensuring that vulnerable households have sustainable means of living, their incomes, their self-esteem, their possession of assets and their social participation will increase significantly over time.
Livelihoods support generates a positive impact in the empowerment of individuals, making it possible to make them leaders of their own development, ensuring self-sufficiency and breaking with dependency dynamics
Addresses the prevention of undernutrition and micronutrient deficiencies through the provision of access to food to the general population, and special nutritional products for vulnerable groups, as well as promotion of and support to adequate infant and young child feeding and care practices.
They are often the poorest of the poor. The stigma and discrimination they suffer are common in all societies. People with disability are often denied chances to work, attend school and participate fully in society – which creates barriers for their prosperity and well-being. The Convention on the Rights of Persons with Disabilities is important because it is a tool for ensuring that people with disability have access to the same rights and opportunities as everybody else.
Saving lives is the main goal of humanitarian aid. When food, water, medical supplies, and other resources are mobilized, human lives are saved from dangers like disease, hunger, thirst, and exposure to the elements. Our Humanitarian Responses are providing emergency assistance, rebuilding communities, educating the next generation, meeting the Sustainable Development Goals, adjusting to changing weather pattern
Based on the mission of our founder Don Bosco, who was an exceptional educator of acute intelligence, common sense and profound spirituality, we ensure that our projects fully respond to his preventive holistic quality educational and skilling approach that puts beneficiaries at the centre and forms individuals,who uphold human dignity and values and are capable of coping with challenges in their lives and in today`s society.
Wherever we engage, we are closely related to marginalized communities, encourage community involvement when seeking to respond to the needs of the poor, the excluded, the disadvantaged and the marginalized and set up quality educational and skilling programs on a holistic basis for the people in need.
Envisaging a world without injustice, we desire to upgrade and extend our outreach and empowering programs to greater numbers of beneficiaries.